We've found that keyboard shortcuts are very helpful in efficiently reviewing code.
Use ⌘K in most places in the application to load a command window that lists available options and actions. You can also trigger the command window using the button at bottom left of review screens.
​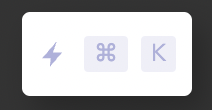 Here's a list of the current shortcuts. We're adding more as we improve the product!
Add comment at diff cursor

Next Diff Line (alternate)

Previous Diff Line (alternate)

Switch diff cursor to current side

Switch diff cursor to baseline side

Save draft comment or save reviewers (based on context)